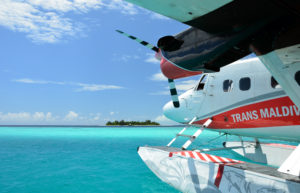 Are you looking to spend a romantic getaway or dream holiday at a paradise-like destination? If your idea of paradise is with an overwater bungalow rested above the blue ocean then you may want to check out some of the most spectacular overwater bungalows in the world.
Cheval Blanc Randheli
Maldives is home to over sixty per cent of overwater bungalows on the planet. But Cheval Blanc Randheli takes the cake for being the icon for everything high-class. LVMH, world leader in luxury and owner of luxury brands like Moët Chandon and Louis Vuitton, made sure the 46-villa resort leads in class. Private seaplane transfers and haute cuisine from chef Yannick Alléno, a three-Michelin star chef, round out the luxury package.
Sandals South Coast
This sensational seaside oasis will feature twelve Tahitian-style honeymoon bungalows by mid-December. Rested above the clear blue waters, the glass-floor panels of the bungalow offers a unique viewing experience of the breath-taking views of the ocean.
The well equipped cabins have tranquility soaking tub for two, spacious sun deck, outdoor shower, and an overwater Hammock. In addition, room service is provided on a 24-hour basis. If you are looking for an ultimate classy adult-only escape, then this is a perfect location.
Hotel Palafitte
The Hotel Palafitte offers you individual luxury pavilions with breathtaking views of Lake Neuchâtel. It holds the distinction of uniqueness as the only hotel in Europe constructed on stilts. The inspiration for the stilts came from ancient Swiss structures found nearby. Known as the birthplace of absinthe, so when staring at the lake becomes boring, go ahead and live on the wild side and have some absinthe.